July 28th, 2007 by Reiner
This one-month experiment, that we have named "Expedition La Sagra", is almost over. Three more nights and the airplane from Granada will depart again with, I think, two happy students on board. For us at OLS this experiment was something new, but it turned out as a huge success. I am therefore sure that it was only the first one with many more to come in the near future.
Aleksandar and Stefan made good use of their stay at OLS by improving their skills in observational techniques and data reduction methods. After a short time of orientation, they worked completely independent – planning the observations, controlling all telescopes and reducing the images the next day. We hope that this knowledge will help them when they enter University life at Zurich, where they begin to study Astrophysics this fall.
For OLS it was a benefit as well. We saw in this long dark run how well certain telescope/CCD combinations work for asteroid and comet surveying and we will use this knowledge to improve the systems further. It will also influence our decisions once new hardware has to be selected for purchase, in order to extend our capabilities in Solar System work.
Up to now this July campaign has a total of 60 credited asteroid discoveries. The most interesting finding was our discovery of the Mars Trojan 2007 NS2. It is only the fourths known Mars Trojan so far and several newspapers did report about the discovery. However all of them missed the real story behind the story, i.e. the fact who discovered it.
I think it is not uninteresting to point out that this discovery was achieved practically by two 19 year old high school graduates within an educational project. And the fact that this object awaited its discovery for decades, being well observable each year, but all professional asteroid surveys failed to discover it. For me these discovery circumstances are the really big news, not just the pure fact that it was found…
Beside the Mars Trojan, a few other interesting discoveries could be achieved, even if not nearly as important. The objects designated 2007 NL2 and 2007 OU6 turned out to be new Jupiter Trojans. 2007 OU6 however needs more tracking data because our orbital calculations show that other orbital types can't be excluded yet. To be more precise, we get a cometary orbit with very large semimajor axis and eccentricity for it, that fits the available observations better than a Jupiter Trojan solution. Only new data in the next days will tell however.
Below I've added two plots that show the situation in the inner Solar System on July 14 midnight UT. The first plot shows the planets up to Mars and the four known Mars Trojans. One of them, (121514), is in the Lagrangian point (well, rather region) L4, while the other three including our 2007 NS2 are in L5.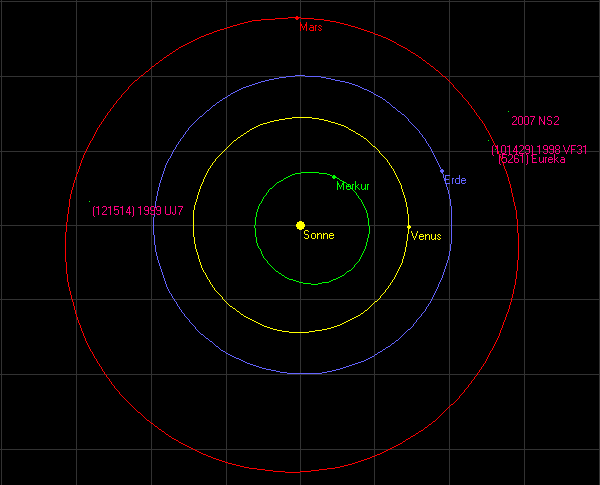 The second plot shows the planets up to Jupiter and all its Trojans that are known so far. Two objects are marked with white circles. The one closer to Jupiter is 2007 NL2, which very certainly is a Jupiter Trojan. The other one is 2007 OU6 which is suspected to be a Jupiter Trojan as well, but which could still turn out to be a comet on a very elliptical orbit, being just by coincidence close to Jupiter's L4 cloud at the moment. We will know more in a couple of days.
Finally I'd like to thank the entities that run OLS for supporting this educational experiment. Salvador Sanchez, director of OAM, for his vital support that made this expedition possible at all. Jose Luis Ortiz and Pablo Santos Sanz of IAA, for their organisational help before and during the expedition as well as for their visits to OLS for introducing Aleksander and Stefan to the hard- and software. Jaime Nomen and Juan Rodriguez of OAM, who helped with data reduction and follow-up observations. And last but not least I wish to thank Senor Arturo and Amancio, the owners of the Ressort Collados de La Sagra, for their hospitality. Without the great cuisine at Collados, the long stays on the mountain would be much less convenient

Beside these OLS entities, I'd like to thank Lutz D. Schmadel of the Astronomisches-RechenInstitut Heidelberg for his effort trying to find additional old precovery observations of 2007 NS2. And for allowing me to schedule my day-job at the ARI so flexible that I can "escape" to Spain and Croatia frequently for such projects

Yours,
Reiner Stoss
OAM Observatories and ARI-Heidelberg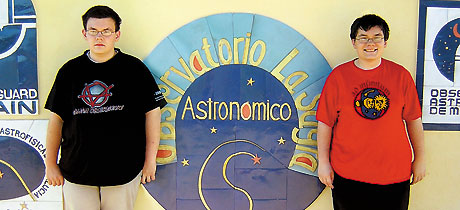 Top picture (from left to right): Stefan and Aleksandar Cikota
Bottom picture (from left to right): Jaime Nomen, Reiner Stoss, Jose Luis Ortiz, Pablo Santos Sanz, Salvador Sanchez, Nicolas Morales (currently at CASLEO – Cerro Burek) and Juan Rodriguez