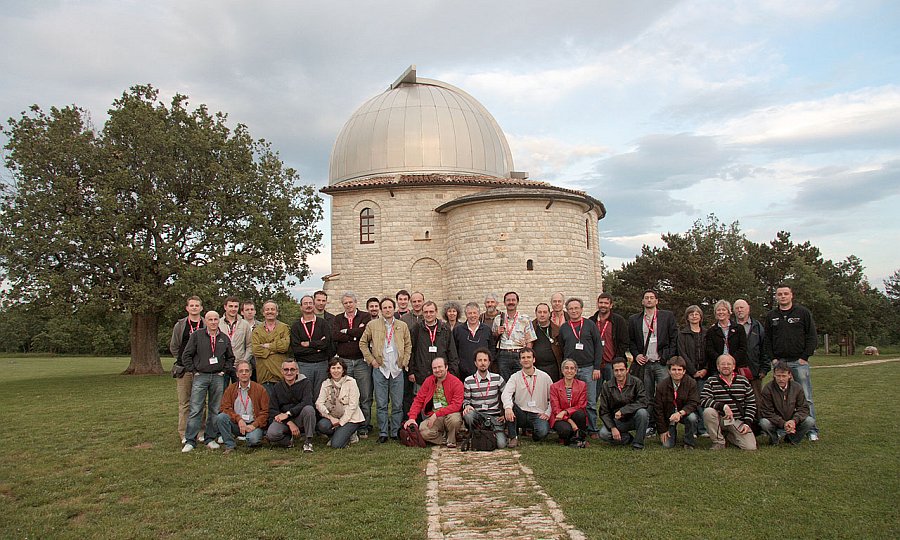 MACE 2010 is over. We hope that everyone had a pleasurable stay and arrived back to home safely.
Thanks for joining us. It was a pleasure to see old friends again and make new ones.
Reiner M. Stoss and Maja Crnić, on behalf of the Astronomical Society of Višnjan

Announcement
Eight years have passed since the very first edition of this meeting in 2002. Together with the subsequent editions in Costitx (Mallorca, Spain), Frasso Sabino (Italy) and Vienna (Austria) it has been a source of inspiration and often a starting point for collaborations between people working in the field of asteroid and comet research. Many things have happened since those early days and the time has come to organize a new edition, offering a new opportunity to meet old friends and colleagues, present achievements and discuss future projects. It is therefore a pleasure to announce that the coming MACE will take place in and around Višnjan/Tićan, Croatia, on the long weekend of May 21-23, 2010.
Regards,

Reiner M. Stoss
on behalf of the Astronomical Society of Višnjan
About Višnjan and its observatory
Višnjan is a village and municipality on the peninsula of Istria in Croatia. It is also the site of the Višnjan Observatory (IAU/MPC code 120) which, even though not active anymore in asteroid search since a decade, is still the most prolific discovery site for asteroids in Europe (1.380 numbered discoveries, ranking 13th in the world). The comets 183P/Korlevic-Juric and 203P/Korlevic were discovered from this observatory during its active observational period from 1995-2001. The local astronomical and scientific/educational center is renowned in Croatia and abroad for its annual summer schools (Višnjan School of Astronomy, Youth Science Camp, Summer School of Science). The Croatian Meteor Network (CMN) operates one station in Višnjan.
The new observatory is being constructed on Tićan hill, a couple of km from the village of Višnjan.