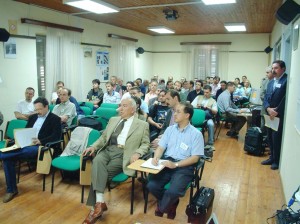 Participants at the first MACE ever in 2002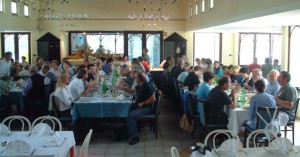 Lunch at Lim bay during MACE 2002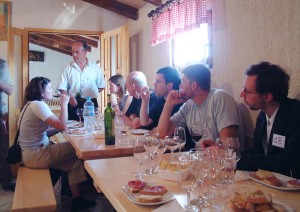 Wine degustation during MACE 2002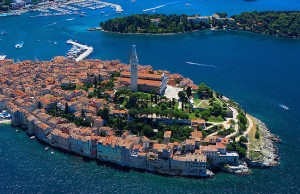 Excursion on sunday
From Friday to Sunday
The meeting will start on friday morning and go on until sunday evening. Participants with a long journey will mostly arrive already on thursday evening. Monday after the meeting is a holiday in most European countries, a good possibility therefore to depart stress-free without hurry and to relax before getting into office again on tuesday. We plan to schedule the talks for friday and saturday and keep sunday for an interesting excursion across the Istrian peninsula.
Topics
We welcome contributions in the field of asteroid, comet and meteor research and closely related topics. Contributions by professional astronomers are highly appreciated and we particularly encourage contributions by amateur astronomers and students.
Preliminary Schedule
Friday, May 21

   09:00 - 09:15  Opening and announcements
   09:15 - 10:30  Lecture session I
   10:30 - 11:00  Coffee break
   11:00 - 12:30  Lecture session II
   12:30 - 14:00  Lunch
   14:00 - 15:30  Tour of Tićan
   15:30 - 17:00  Lecture session III
   17:00 - 17:15  Coffee break
   17:15 - 18:45  Lecture session IV
   18:45 - open   Dinner and discussions

Saturday, May 22

   09:00 - 10:30  Lecture session V
   10:30 - 11:00  Coffee break
   11:00 - 12:30  Lecture session VI
   12:30 - 14:00  Lunch
   14:00 - 15:30  Guided tour through the town
   15:30 - 17:00  Lecture session VII
   17:00 - 19:00  Wine degustation
   19:00 - open   Dinner and discussions

Sunday, May 23

   09:00 - 18:00  Excursion
   18:00 - open   Barbeque on Tićan and Closing




List of announced talks (May. 18)
Giovanni Sostero (CARA)
Outburst of P/2010 H2 (Vales): first analysis of a surprising comet
Giannantonio Milani (CARA)
Status of the CARA project: eight years of cometary photometry
Martino Nicolini (CARA)
Two algorithms to enhance cometary comae morphology
Željko Andreić (HMM)
CMN - a prototype of inexpensive but modern meteor network
Damir Šegon (HMM)
Some questions about IAU meteor shower database
Steve Chesley (JPL)
Treatment of Star Catalog Biases in Asteroid Astrometric Observations
Jure Skvarč (Črni Vrh Obs.)
Asteroid and comet observations at Črni Vrh Observatory: a review
Jure Zakrajsek (Črni Vrh Obs.)
A New On-line Comet Observation Database (COBS)
Andrea Milani (NEODyS/AstDyS/Pan-STARRS)
Pan-STARRS: is it coming, and how good it is going to be?
Genny Sansaturio (NEODyS/Valladolid)
Linking ONS to known NEAs
Filip Novoselnik and Denis Vida (Astronomical Society "Anonymus" Valpovo)
Using NEO survey images for Supernova hunting
Korado Korlević (Višnjan Obs.)
Asteroids, comets and meteors as introduction to science for high school students
Richard Miles (British Astronomical Association)
Follow-up observations of outbursting comets 17P/Holmes, 29P/Schwassmann-Wachmann and P/2010 H2 (Vales)
How to announce a talk
Time allocated for each talk is usually 15min + 5min questions. If you wish more time, simply let us know. The sooner you do so, the more likely it is that we can allocate the time you request. In order to submit a talk, please copy below given questionnaire into an empty email, fill it out (fields marked with * are mandatory) and send it to this address: click here (

)
--------------------
Personal details

Presenting author (*):
Other authors:
Institute/obscode/university:

Talk

Title (*):
Abstract (optional!):
Duration (*):
Requirements (e.g. Powerpoint, overhead projector):
--------------------
Peter Birtwhistle of Great Shefford Observatory (J95) has kindly accepted the task of collecting the talks and scheduling the scientific program. Your message sent to the above given email address will get auto-forwarded to him.