Farewell to a small asteroid that became a big fireball
Earth Impactor 2008 TC3 en route to Northern Sudan
tracked by La Sagra Sky Survey, Spain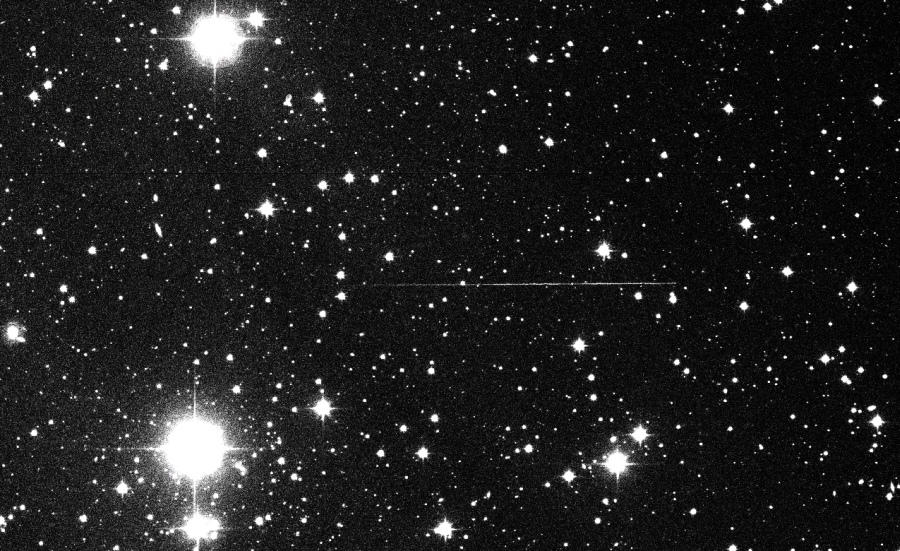 Small asteroid 2008 TC3 entering the penumbra and shortly later the umbra of the Earth, becoming invisible for almost one hour until
atmospheric impact over northern Sudan.
The above image is a small section from a much larger image, exposed while asteroid 2008 TC3 entered Earth' shadow about one hour before expected atmospheric impact over northern Sudan. The image was made with one of La Sagra Sky Survey's (LSSS) 45-cm f/2.8 telescopes. It is a six minute exposure tracked at siderial rate. Exposure start time was 2008 Oct. 07, 01:45:23 UT. The section shows a field which is half a degree wide, comparable to the size of the full moon. The asteroid moved from west (right) to east (left). At start of exposure it was at a distance of 29600 kilometers, approaching at a speed of 7.61 kilometers per second. The periodic light variation along the early part of the trail indicates a fast rotation of the intruder around its spin axis. Long before the exposure ended, the trail got dimmer and completely invisible, confirming the predicted time of entry into Earth' shadow.
About LSSS: The La Sagra Sky Survey is a survey for asteroids and comets, conducted at the Observatorio de La Sagra (OLS) in Andalusia, Spain. It is operated by the Observatorio Astronomico de Mallorca (OAM), Balearic Islands, Spain.
About the asteroid: 2008 TC3 was discovered on 2008 Oct. 6 by the Mt. Lemmon Survey in Arizona.
Photographic material on this page may be used freely for educational purpose if credit is given to the La Sagra Sky Survey (LSSS). For other use please contact OAM staff by email.